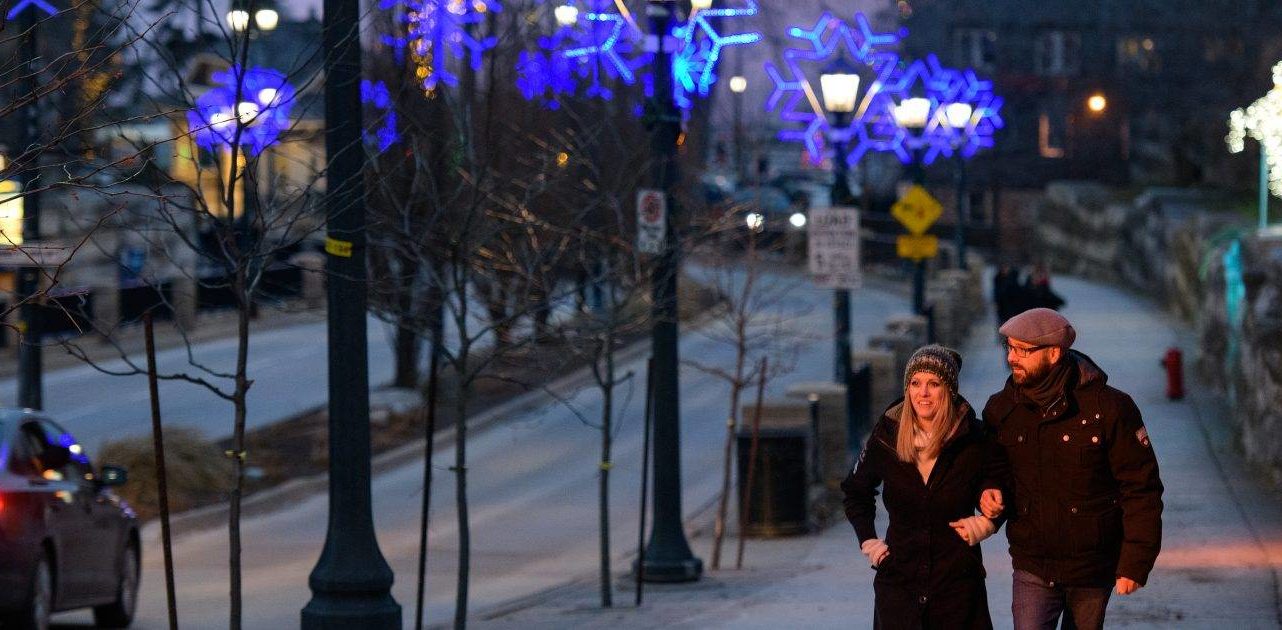 Reading Time: 5 minutes –
Feature image source wfol.com
Fun and Romance Abounds in Niagara Falls!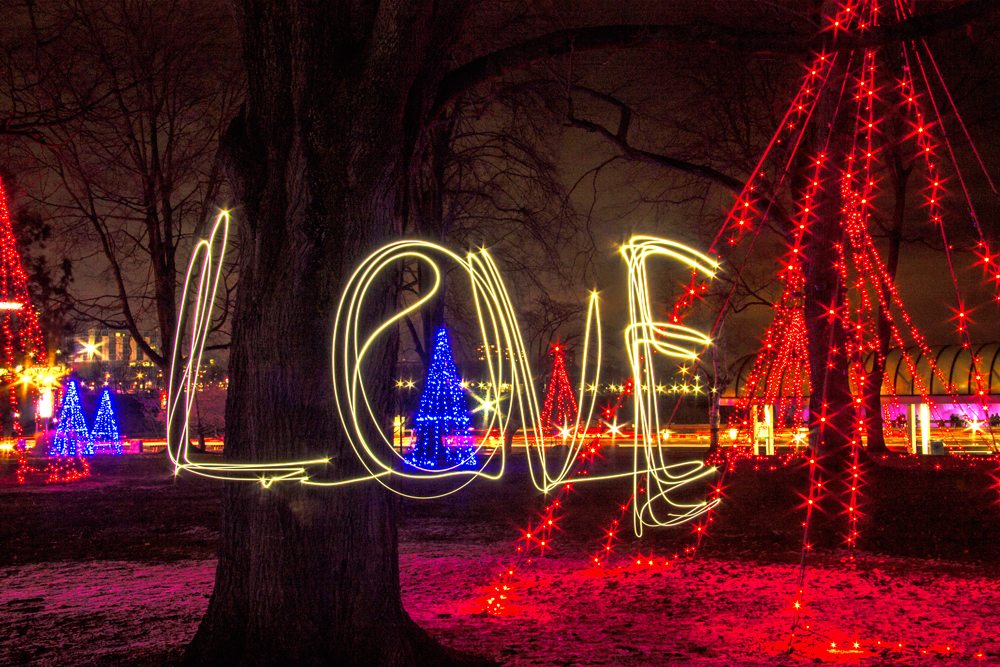 Searching for an epic excursion for you and a special someone? Fun and romance abounds in Niagara, especially if you know where to look. Many 'love birds' take in the Falls on a care-free walk along the Niagara Parkway, others enjoy a couples massage at our award winning spas, or a satisfying gourmet meal with a view, then retire in one of our upscale hotel rooms where elegance and comfort take priority. Continue reading below for the top 10 ways to spice up your relationship this winter.
#1 Take A Romantic Stroll on the Parkway!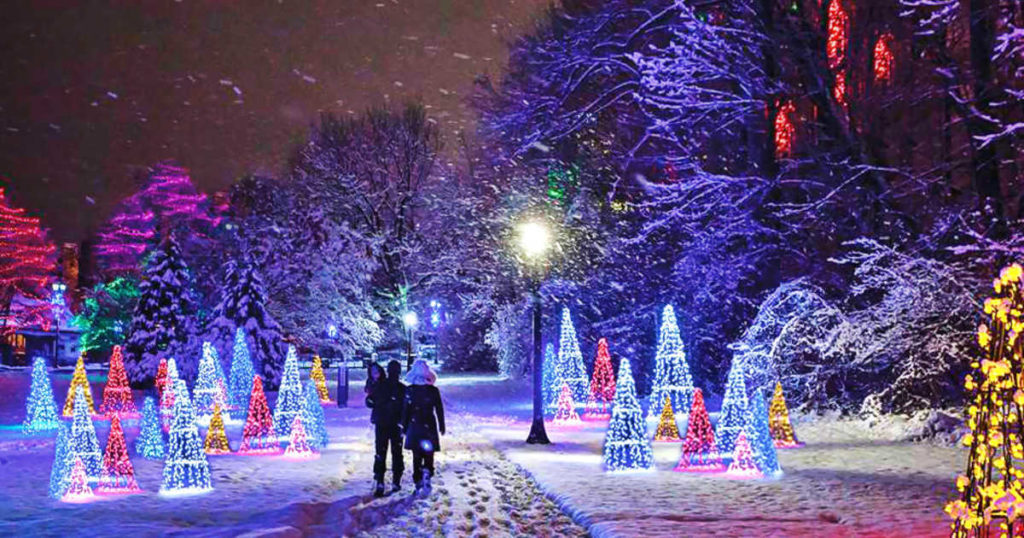 via christinehess.com
The most scenic portion of the Niagara Parkway is right at the Falls, where you can take a romantic moonlit walk to see the illuminated Falls, Winter Festival of Lights, fireworks and other beautiful scenery…hand in hand. Friday, January 25th is the last set of fireworks for the season. In addition, the Winter Festival of Lights comes to a close on the 31st…so don't miss out!
#2 Take a Twirl at An Open Air Skating Rink!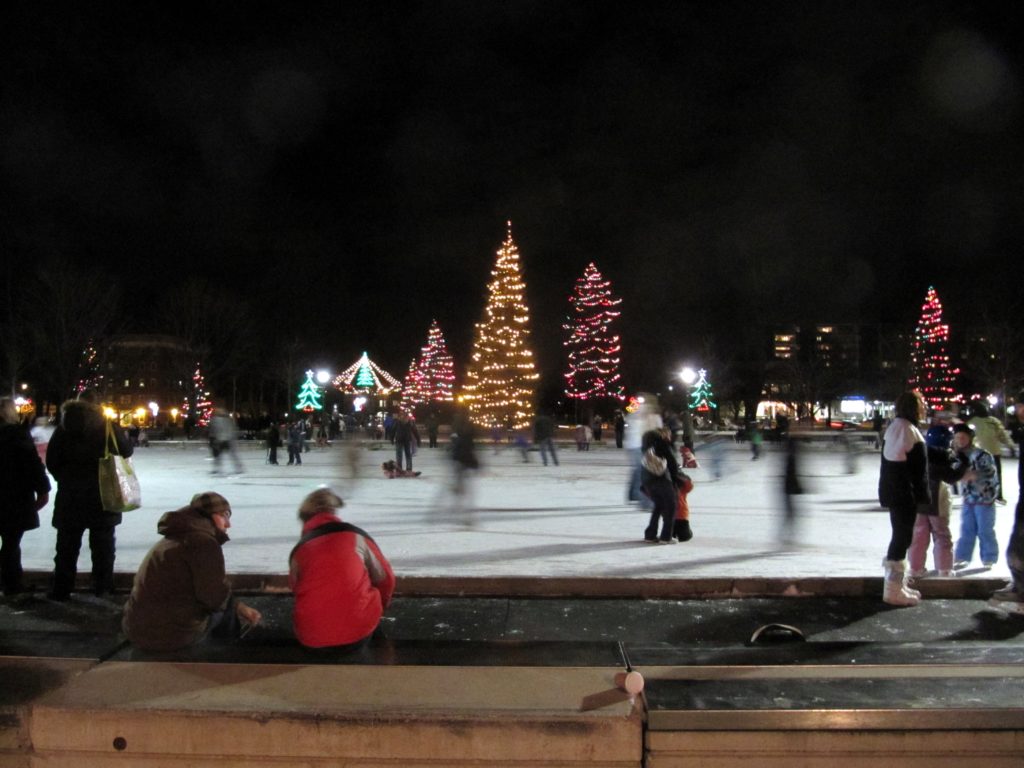 via pc.gc.ca
Try out the outdoor skating rink at Fort George in Niagara-on-the-Lake! The rink is lighted so visitors can skate in the evenings and ice chillers are installed to ensure ideal skating conditions all winter! Skate rentals include size 7 girls and 11 boys to size 12 adult.
Operating season and hours are subject to weather conditions.
Open Skate
During these hours, there are no dedicated staff, concessions, rentals, or music available:
Monday to Thursday: 10 am to 5 pm
Friday: 10 am to 4 pm
Family and Evening Skating
During these hours, there are dedicated rink staff, skate and helmet rentals, music, and programming available:
Friday: 5 pm to 9 pm
Saturday: 10 am to 1 pm, 2 pm to 5 pm, 6 pm to 9 pm
Sunday: 10 am to 1 pm, 2 pm to 5 pm
#3 Bring Your Love to Soaring Heights with an Aerial Tour!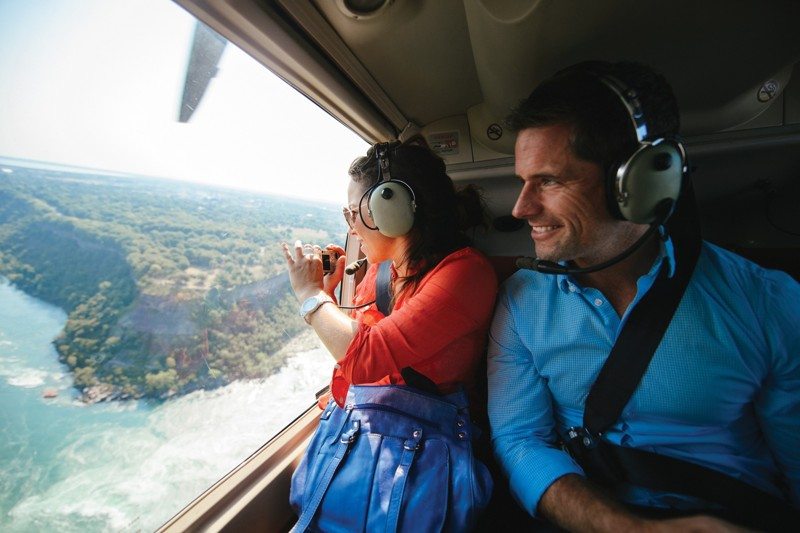 via niagarahelicopters.com
During the quiet periods of winter "Niagara Falls Helicopters" offers a perfect opportunity for a surprise engagement! Or better yet, you can take advantage of their "Chapel in the Sky" wedding service, the most intriguing way to tie the knot for couples that want to stand out! For those just wanting to share a great experience, there is a number of excellent tours which include Niagara's finest wineries along with many other points of interest to enjoy together.
#4 Celebrate Your "Love Buzz" with a Fine Wine!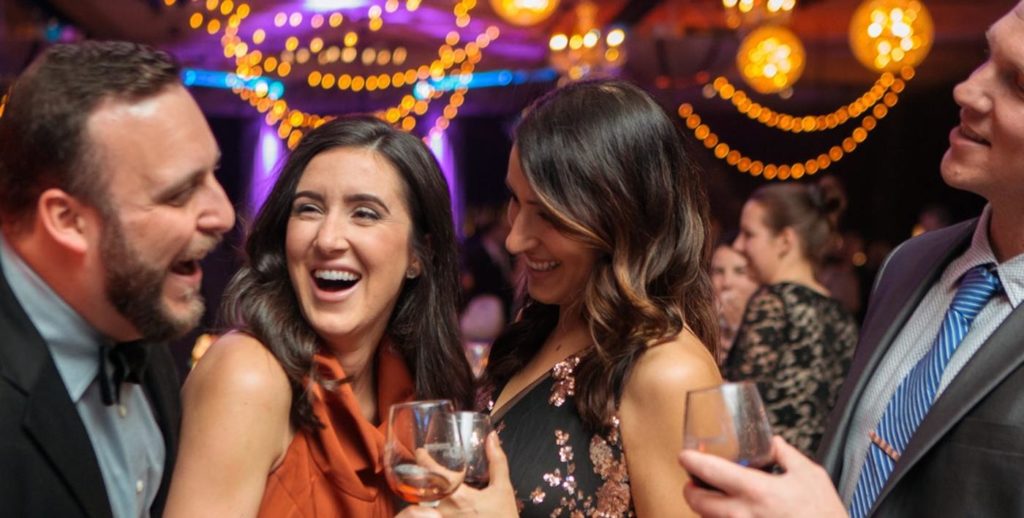 via niagarawinefestival.com
Niagara is "wine country" and its surrounding landscape is gorgeous to see during all four seasons. The Niagara Region alone has over 50 award-wining wineries, with 25 vineyards in Niagara-on-the-Lake. Take advantage of high quality tours and tastings and learn about the whole winemaking process. Another great way to enjoy Niagara's wines is to attend one of the many wine festivals that happen throughout the year. The Niagara Icewine Festival happens on the last 3 weekends in January, starting Friday, January 11 – Sunday, January 27, 2019. Wine and dine in Niagara and keep the romantic spark alive and flowing.
#5 Relax, Rejuvinate and Pamper Yourselves!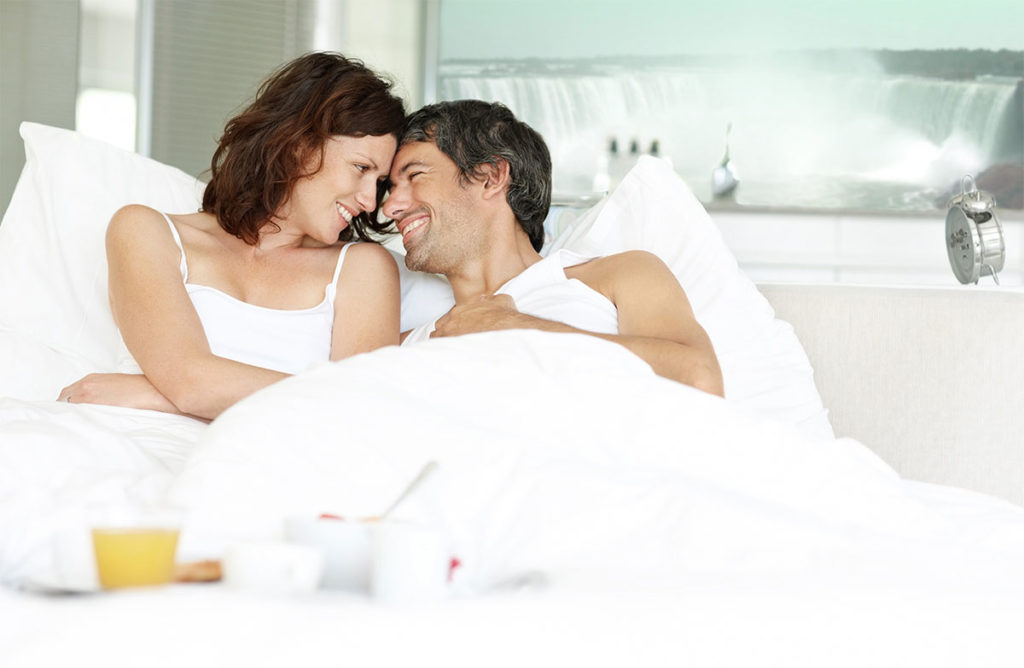 via niagarafallshotels.com
There are many luxurious spas to choose from, with many located in Niagara Falls and the beautifully historic Niagara-on-the-Lake. Virtually all of the spas in Niagara offers a couple's treatment session, and an event filled "spa day" is the best way to relax and bond with one another. Be sure to take advantage of the "a la carte" options if you have a busy schedule or spend the entire day with a comprehensive spa package.
#6 Make a Bold Splash on the Hill!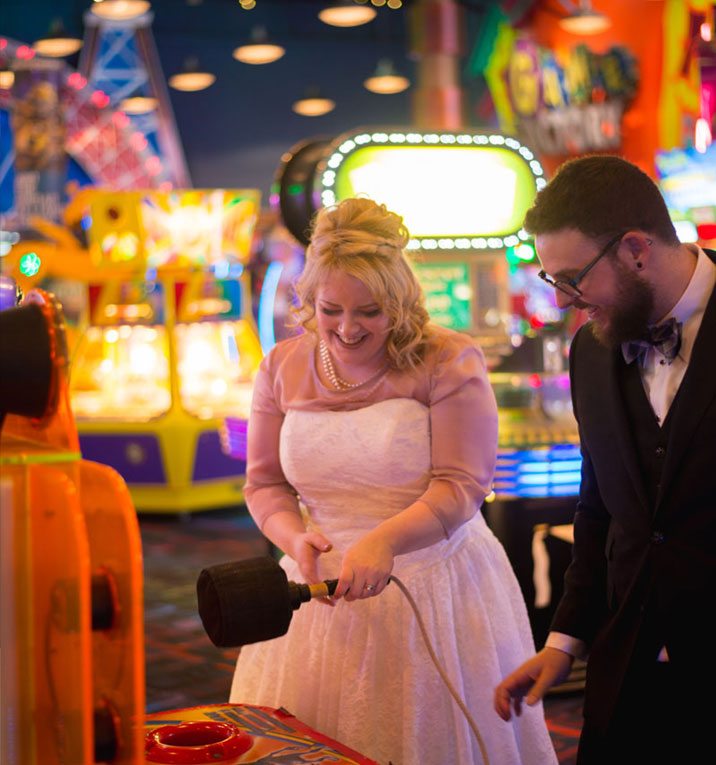 Create positive memories by spending an entire day on Clifton Hill…The World Famous Street of Fun by the Falls! There is the Niagara SkyWheel, midway arcades, wax museums, haunted houses, Casino Niagara, waterparks, magic shows, mini putt, restaurants…and much more. Amidst the whirr of activity, couples can easily relax and enjoy the fun-loving atmsphere the Hill provides….It really is one of the best ways to enjoy date night! Additionally, there are many great choices for cafes and specialty shops on the Hill…satisfying the most discerning tastes. Fun Fact: Many couples get engaged while riding the Niagara SkyWheel…where you can easily score a private ride during the winter!
#7 Troll for Vintage Gems!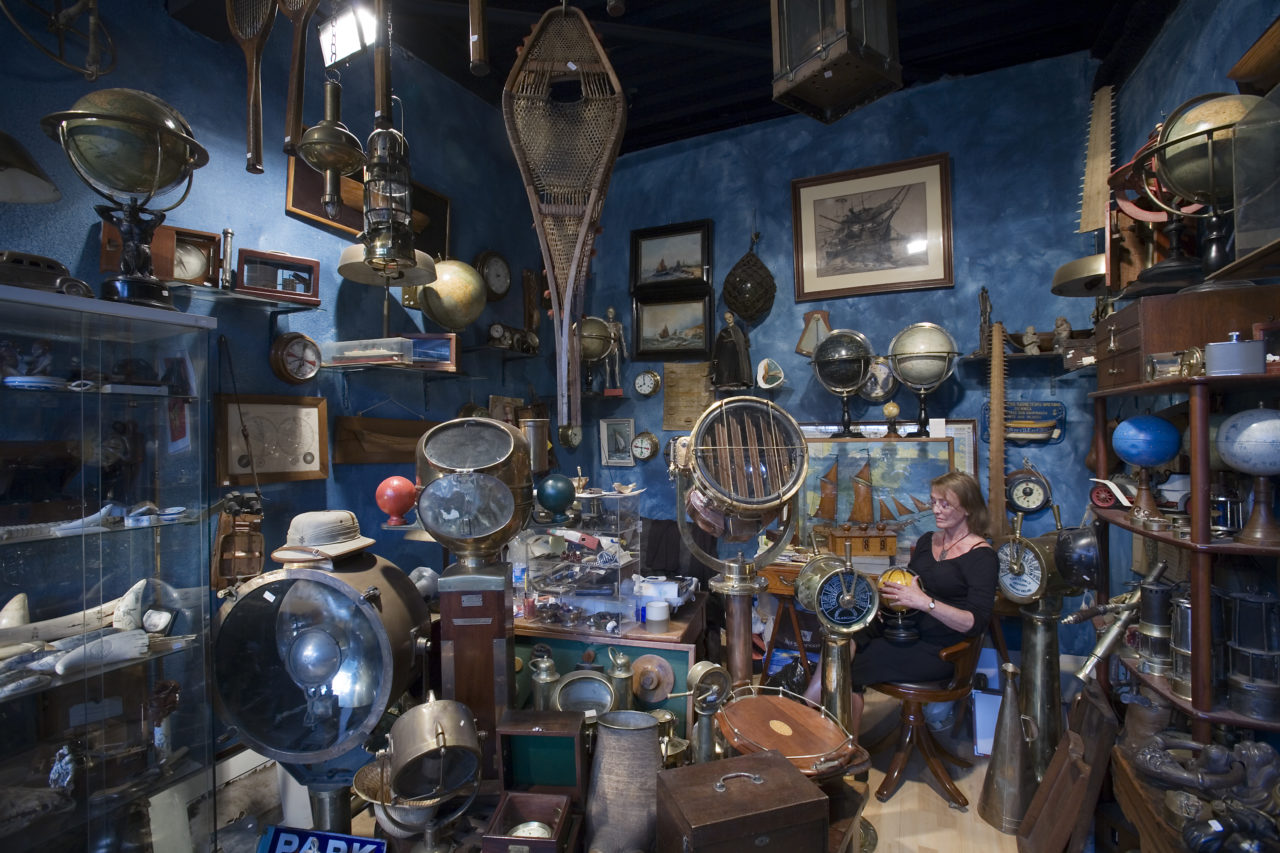 The euphoria of finding buried treasure in an ocean of relics is one of the best ways for couples to spend the afternoon in Niagara. On your penny-pinching path of reclamation you will gain both some historical insights along with a few extra dollars in your wallet. The local region is full of great vintage shops, and if you are a collector or if you are just looking for a unique gift, Niagara is among the best in Ontario. Winter is ripe for exploring Niagara's antique market, as many discount their inventory to help keep business brisk during the slow season. You will appreciate the personalized experience many of the engaging shop keepers provide…plus they love to share a good story.
#8 Awaken Your Senses With the Best Food!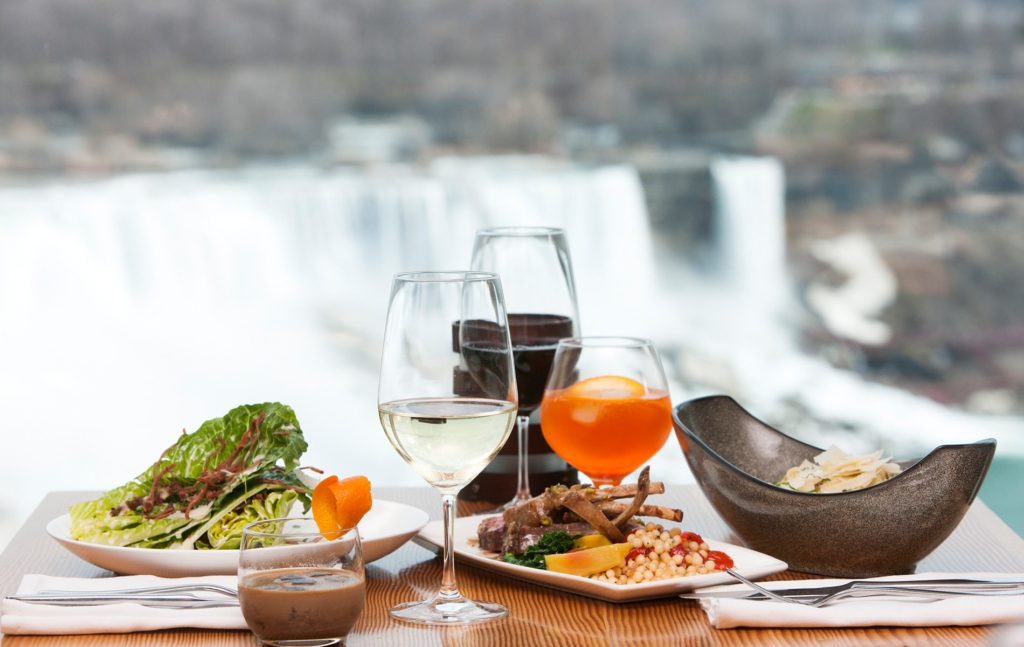 via massimositalianniagarafalls.com
Your first bite into Niagara's finest cuisine will awaken your senses! Niagara sets the bar high when it comes to upscale romantic dining! Many offer a beautifully elegant atmosphere and great views of the majestic Falls. For a fine meal and classy experience, we recommend the following Niagara restaurants: AG Cuisine, Casa Mia, Koutouki Greek Cuisine, Kelsey's Clifton Hill, Ravine Winery, Massimo's Italian Restaurant, Canyon Creek Fallsview, Brasa Brazillian Steakhouse, Weinkeller, and much more!
#9 Indulge at a Luxury Boutique Hotel!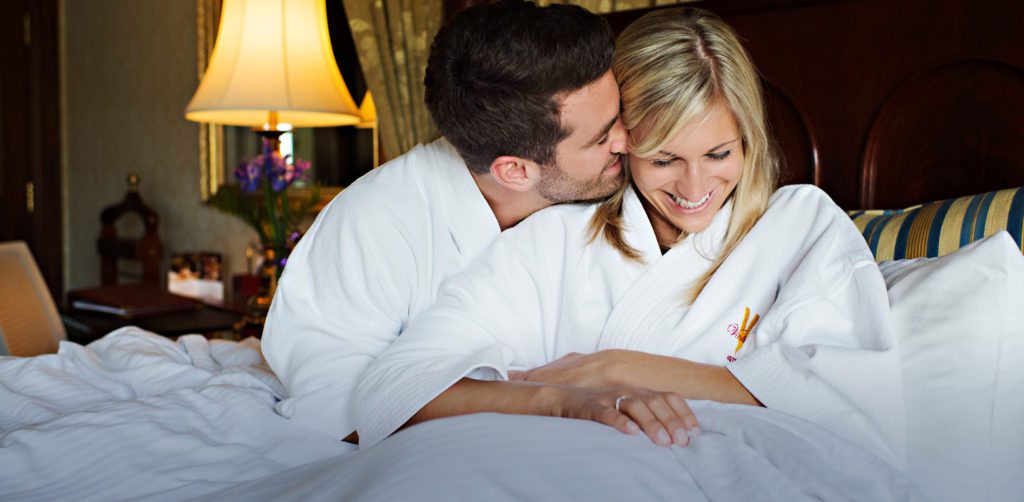 via cliftonhill.com
Niagara is the most natural place in the world to celebrate love and affection for adoring couples. Many of our accommodations are purpose built with romance in mind. Turn your indulgent fantasies into reality by choosing from Niagara's most uncompromising rooms and suites. Here is a small selection of luxury properties we recommend: Old Stone Inn, Sterling Niagara, Oban Inn, Fallsview Marriott, 124 on Queen, Inn On The Twenty, Sheraton On the Falls, and many more.
#10 Test Your Luck at the Casinos!

via cliftonhill.com
As a loving couple, test your luck and immerse yourself in all the gaming action at Niagara's finest casinos. If you and your partner enjoy games of chance, whether your favourite is poker, slots or roulette, you'll find it all in Niagara Falls. Sophistication and classic luxury are seamlessly blended with the pulsing energy of the gaming action! If gambling is not your thing, you can still enjoy some world class entertainment that is presented year round at all the gaming facilities: Fallsview Casino, Casino Niagara and the Seneca Niagara Casino.
The post 10 Spicy Ways to Heat Up The Romance This Winter! appeared first on Clifton Hill Blog.