Can I still take a holiday? 
I'm sure this question would tickle your guests' minds every time they plan for a trip, as the current crisis has put the travel and tourism industry to a standstill. 
Though we also see that tourism is being recovered in some parts of the world, and the first thing that is about to bounce back is domestic tourism.
So, in this blog, I am going to provide you with advice on how to attract domestic travellers at your hotel. 
Whether you are still in lockdown, preparing for restrictions to be lifted, or open to domestic travel; these are ideas that you can put into practice to win guests and regain revenue.
But, before that let's understand,
What is domestic travel and why would people prefer that post the pandemic? 
Domestic travel. You must be familiar with this term right? Well, it's all about exploring your own home country. 
With the uncertainty of what happens tomorrow, it is likely that your guests would prefer to travel internally at least for a while. 
This would make them feel comfortable and have a sense of trust in case of any medical emergencies; as they aren't much away from their home.
Likewise, a staycation would also be an upcoming trend. These are travellers that prefer to explore places in their own backyards, close to their home city, and connect to their own local culture.
They are probably those who like going on a quick road trip or prefer staying in their own city. 
Besides, the observing change to go VOCAL FOR LOCAL across countries would make your guests go for domestic travel for quite some time.
But, how would you attract domestic travellers to your property? 
All you need to do is, be prepared to cater to their needs and match their expectations.
This would help you to boost your revenue and uplift your business.
So, let's figure out,
Why should hotels favour domestic travellers? 
By far, there are barely any bookings being made for the future, and the current ones all stand cancelled. 
All the more, international travel hasn't resumed completely; and the only option available to explore is domestic travel.
So, to give you a closer look at this, I'd like to share with you some data that I have been closely monitoring for the past few months.
Here's a graphical representation that I observed on the number of bookings received per month in a COVID19 environment.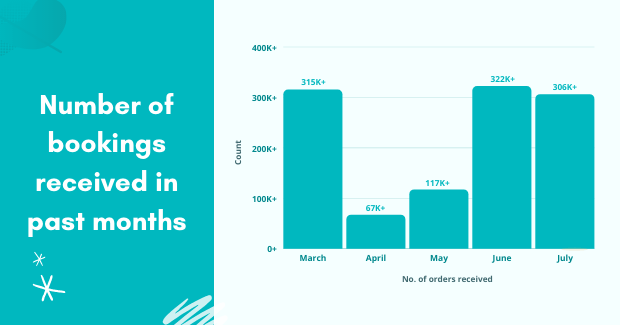 If we see, these are some of the worst hit times that the industry has faced where the months of April and March remain to be the most affected ones. 
However, with time, we saw things improving gradually. Tourism is once again getting back on track and people have started to plan their trips.
But, there are a lot many factors that need to be looked into to entice the attention of your domestic tourist.
Let me guide you on that below.
What type of guests would be travelling post the outbreak? 
Observing constant changes in the environment and behaviour of your guests, it is unlikely to judge who would be travelling in such a crisis. 
However, initially, you can expect couples who missed on to celebrate their special occasions amid lockdown or small groups of friends reuniting for a weekend break. 
To add on, there would be countless families that might have cancelled their trips during the outbreak. So, you could also witness such a group of guests at your property. 
Apart from this, your repeat guests would be most likely to visit your hotel. For now, trust and familiarity are such factors that would encourage them to come back.
During such instances, you can set limits on the number of base adults staying in one room.  And also, allocate alternate rooms to your guests thereby abiding social distancing. 
For time being, I advise you not to take bookings from countries that have been most affected by the virus.
I'm sure, considering even such minute precautions would benefit your property to stay safe in the long run.
Now, let's find out ways on how you can attract domestic travellers.
How to attract domestic travellers at your hotel?
With rising expectations of your guests, you need to be well prepared to offer what they are looking forward to. 
The one thing that would be on top of their mind post this outbreak, is SAFETY. And, you definitely need to ensure them a safe stay at your hotel.
Bearing in mind the types of travellers that might visit your property, you must ensure ways to attract them to maximize your revenue.
Adding on, you might have witnessed every second hotel taking a hit during COVID-19, so make sure to have a plan smarter than ever before to get back on track.
Below I have listed down the ideas that would help you to plan and bring in a good amount of domestic guests at your property. Have a look:
1. Reframe your safety and hygiene norms
Constantly focusing and following the guidelines issued by the government, I'm sure you must have rolled out various precautionary measures at your hotel. 
Besides, I would like to mention a few MUST-HAVE measures that everyone at your property should follow. 
On your doorstep, make it a mandatory requirement to perform temperature checks for all your guests and hotel staff.
Along with this, install hand sanitizers across your hotel's premises.
Further, to create a sense of trust and comfort for your guests, hang posters showcasing the precautionary measures you've implemented.
Lastly, make sure that everyone is following the required protocols and that your hotel's premises, rooms, gym, pool area, restaurant, etc. are disinfected at regular intervals.
2. Impart usage of COVID19 safety kit 
In the old times, you offered complimentary toiletries to your guests. Similar to that, you can now provide complimentary COVID19 safety kits.
Post the crisis, even when things have settled down, you can place such kits in each of your hotel rooms. 
Make sure this comprises a mask, hand sanitizer, gloves, and a face shield (if need be).
Besides, highlight about this on your hotel's website, social media, and every possible link that reaches out to your guests. 
So, when they make a booking, they are well aware of the safety precautions your hotel is taking.
3. Get in touch via emails 
Emails are not dead and never will be! They have been the most convenient way of reaching out to your guest even during the lockdown scenarios.
Start engaging with your existing as well as past guests. They are the ones who would be more likely to visit your property.
Focus on sending emails like your hotel's reopening date, safety precautions you've taken, special offers, deals, promotions, and more. 
Don't rush by sending too many emails regularly. Share them at fixed intervals and cater to the cities that are less affected by the virus.
I'm sure this would work and get your loyal guests enticed.
4. Reach out via social media
Social media is the best tool to get you more guests and keep them updated about your hotel. All the more, it helps you to reach out to a much larger audience.
So make sure you add this one in your plan! Be socially active and regularly post about the steps you are taking to keep your property safe and sanitized. 
Once you start receiving bookings, you can also highlight the packages and discounts that you are offering.
I have some ready-to-use social media templates to offer you. (Edit it as per your requirements)
This platform is vast if you have the right strategies for social media marketing then I'm sure you can do wonders and attract maximum guests.
5. Emphasize on your hotel's location
If your property is situated in a beautiful landscape then you can take advantage by highlighting it. For now, all your guests want is a pleasing environment to stay in. 
And, having the plus of a mind-blowing location wouldn't be hard for you to gain potential guests. 
However, if it is the other way around, then you can instead portray the various amenities that your hotel offers.
Along with that, do mention about the direct flights that reach out to your location. I'm sure your guests don't want to be a part of the crowd for a much longer time.
And, having such direct flights to your location can be a plus point for them to choose your property.
6. Set attractive pricing 
One way to stand apart from your competitors is by having attractive and affordable pricing packages for your guests.
We all know that the pandemic has hugely affected all economies. So, the one thing that your guests would prefer is a low-budget stay.
Initially, you can acquire guests at a lower price than what you used to offer previously. 
Once you observe a good inflow, you can accordingly alter your hotel pricing strategies.
Do focus on planning out some really effective pricing combos and discounts. This will surely help your hotel to bring in more bookings.
7. Encourage contactless services
Contactless services are the NEW NORMAL that your hotel needs to adapt to. Like earlier, now your guests won't prefer getting much in contact with your hotel's staff.
Their requirements have changed. So, to match their needs, you need to now enable touch-free services at your premises. 
For this, having a guest self-service portal at your property can make your operations much simpler; thereby maintaining a physical distance between you, your staff, and your guests.
Besides, digitalization is the new way that your guests would get attracted to your property.
Right from acquiring bookings to being in touch with them post-departure, make sure you deliver contactless experiences at each stage of your guest's life cycle.
Check out how eZee Absolute encourages contactless hotel services. 
8. Promote in-room services
Think twice, would your guests prefer to have crowded places at your premises now? No right? Not just your guests but I'm sure even you would fear that!
And post the pandemic or even earlier I'm sure such instances would take place mostly in your dining area or during the morning breakfast buffet.
One way to reduce overcrowding at such spaces is by promoting the in-room services. 
Offer them options like delivering the breakfast at their doorstep.
Make sure that it is delivered completely touch-free. You can advise your staff to ring the doorbell and leave or stand at a distance of 2 meters.
Practicing such things at your property would definitely make your guests feel secured and that you value their safety more than anything else.
9. Set flexible cancellation policies
Cancellation policies can make or break your property post the outbreak. By mentioning make or break, I mean, designing flexible cancellation policies can help you to pull more guests.
Lately, you must have received a lot of cancellations. Reason being, the pandemic of course, and its uncertain lockdown situation.
However, I'm sure you don't want to witness such a scenario any time further. Thus, make sure you plan a fool-proof cancellation policy.
Don't be over flexible though, do keep in mind that your guests don't want to lose any more money in case they have to cancel their bookings due to an unprecedented crisis.
Thus, ensure that you highlight and mention about your hotel's cancellation policy clearly on all platforms.
10. Collect and promote guest reviews
Feedback and reviews are a great way to encourage and attract more guests to your property. And, they may start to take a different shape in this changing world. 
Your potential guests will always be on the lookout for comments on the cleanliness, hygiene, and safety measures at your property.
And if you highlight them rightly on your website, OTAs, and other meta-search engines then I'm sure they can play a big part in influencing the booking decisions of your potential guests. 
Make it a practice to collect feedback from your guests as soon as they check-out. For this, no need to use the old traditions of a physical pen and paper.
Technology has reshaped. Just like payments have become cashless, likewise, feedback have turned paperless.
So, collect reviews via emails, SMSes, social media channels, and every possible way that lets you do so.
Adding these would definitely help you to entice more guests than your competitors.
Wait… That's not all! I have some really beneficial links to share below.
Useful links and resources
Essential Requirements and Tips to Reopen Hotel
Strategies to Lift Hotel Business Post the Outbreak
Guidelines on Post COVID19 Protocols for Hotels
Effective Hotel Cancellation Policy
COVID-19 Survival Kit for Hotels
Ways to Keep Your Hotel Business Safe From COVID-19
Conclusion
We know time heals everything and I'm sure it will do so for the travel and tourism industry being the most affected one. 
Besides, domestic tourism will be the first one to gear up and get back on track.
Thus, my advice for you as a hotelier would be to consider the new preferences of your travellers, stay well prepared to cater to their needs, and match their expectations.
Start with the various ways I have enlisted above to welcome your guests again. Remember to be empathetic, flexible, and helpful in your approach. 
We will recover and get through this phase too! 
I hope these ideas will attract more domestic travellers to your property and make your business fruitful.
Do let me know how this works out for you (via comments), and if you need any guidance to implement it.
The post 10 Sureshot Ways to Attract Domestic Travellers at Your Hotel appeared first on eZee Absolute.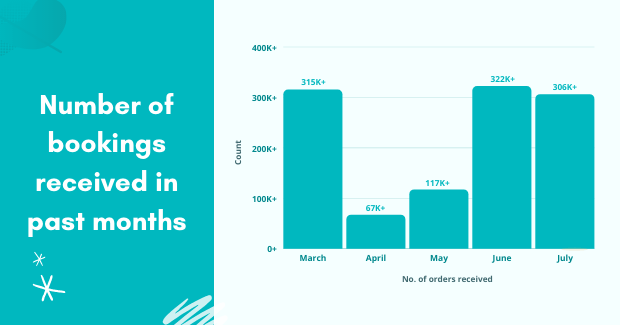 Read MoreCan I still take a holiday?
I'm sure this question would tickle your guests' mind every time they plan for a trip, as the current crisis has put the travel and tourism industry to a standstill.
Though, we also see that tourism is being recovered in some parts of the world, and the first thing that is about to bounce back is domestic tourism.
So, in this blog, I am going to provide you advice on how to attract such travellers at your hotel.
The post 10 Sureshot Ways to Attract Domestic Travellers at Your Hotel appeared first on eZee Absolute.