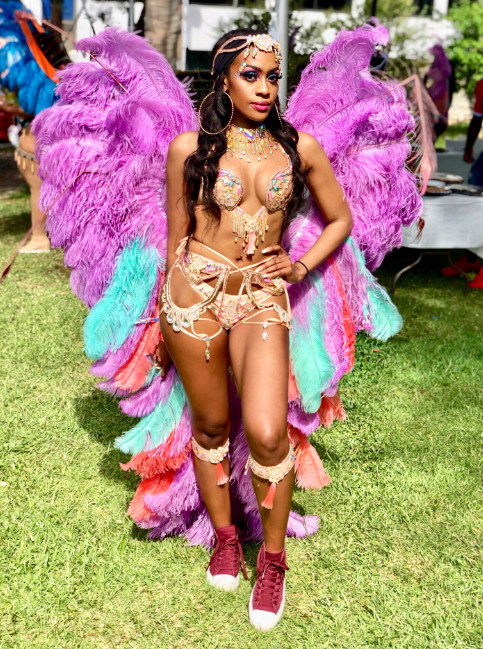 I had the chance to experience the gorgeous island of Bermuda and participate in their 5th annual Carnival. Now, there are multiple bands within a Carnival which explains the costumes you see all over the Gram. I choose which band I want to play with based on their costume
. I love the glitz, glam, colors, and feathers. It's all about the theatrics hunny so choose wisely!
I registered with @codered_bd and my costume came out to be $750. Food and beverages were included, along with discounted fete tickets. Registration was quick and easy, and picking up my costume once I arrived in Bermuda was just as smooth. They did an amazing job with costume distribution. If you had any troubles, they went out of their way to make sure your experience was worthwhile!
Flight and hotel didn't break my pockets at all! My flight came to be $375 @united. I stayed at the Hamilton Princess Hotel @princessbermuda for 4 days and 3 nights for $375 per person (4 of us).
The hotel is absolutely gorgeous! The staff is super friendly and attentive! The property and ambiance is to die for! It gives a super romantic vibe. So if you have a bae, tell them to take you there lol!
NOW, let me tell you from now! Everything else will break your pockets! Everyone told me "Pack snacks to eat when you get hungry, you're going to the Rich Man's Island." It sure is the Rich Man's Island because the prices will have you asking "Do I really need to get an appetizer?" A can of soda at the hotel convenience store was $5

! No ma'am!
Their currency is equivalent to the US Dollar. It WILL get pricey fast. However, there are a lot of local restaurants within walking distance from the hotel where you can find reasonably priced meals that are good!
Since I only went for Carnival, I didn't get a chance to experience true Bermudian activities. From what I saw in the area, there wasn't much to do besides dining or going to local bars. Luckily, Carnival held a lot of parties which added to the activities list.
Eboni Hamilton
Instagram: @eboni_lace