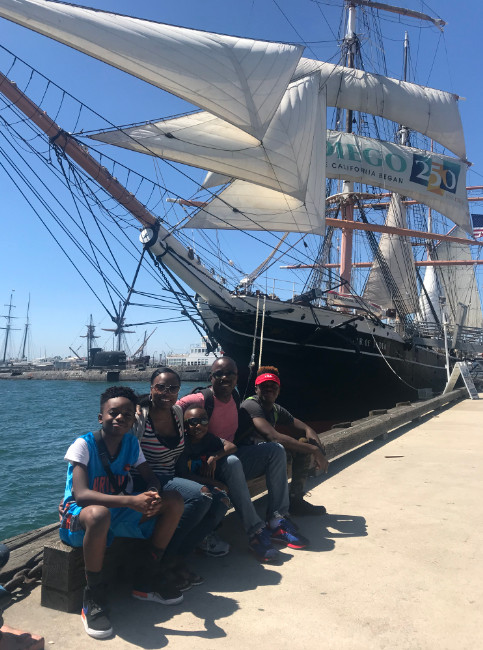 Traveling to multiple cities can be trying. Doing it as a family of 5 in 8 days can add more complexities. Our summer vacation was to tackle California from south to north, with stops in San Diego, Los Angeles, Anaheim and San Francisco. I selected those cities because I felt they would have enough activities for all- 2 adults and 3 kids ages 16, 11 and 7.
We flew into San Diego for about $200 per person, and I used airline points to fly out of San Francisco. Each person had to fit all their clothes in 1 carry on and a book bag because I wasn't paying for baggage fees.
In California, the mode of transportation was a rented SUV that had the space a family of 5 needs. Shop around for the best rates because it can be tricky, plus the pick up and drop off locations were different. Gas was high at around $4.50 a gallon, but I only remember having a fill the tank two times.
I booked hotels in the areas that had free breakfast options and were near activities. Paying for parking seems to be a new thing, so 2/4 hotels we had to pay a nightly fee to park ($15-$25 a night).
We were true tourists and tried to do all the touristy attractions. In San Diego, it was Mission Beach and the La Jolla seal caves, which turned out to be the most unique experience of the whole trip. In Los Angeles, it was the Hollywood Walk of Fame, Hollywood sign and Beverly Hills. Anaheim is the home Disneyland – enough said! In San Francisco it was the Golden Gate Bridge, Fisherman's Wharf and Union Square. We were surprised by the 60 degree weather in San Francisco and even more caught off guard by Los Angeles and it's 2 earthquakes.
We braved driving up the Pacific Coast Highway, but missed most of the views because it was night time. We won't be doing that drive again any time soon!
California is beautiful, but it's an expensive state, and that's coming from a New Yorker. I'm so happy we had snacks in the car at all times because the prices can break budgets if you are not careful. But no price can be attached to the memories we made.
Natasha Manners
Instagram: @neelam95