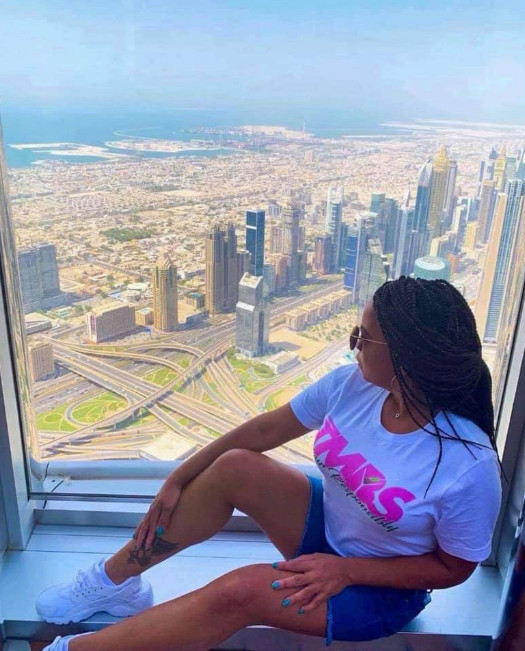 This trip was $840 flight and hotel
Hotel: Flora Al Barsha, hotel staff was great, the rooms are very spacious and the location is perfect.
Thursday:
I found a groupon deal to visit the Burj Khalifa it was $45 & included a beverage at Café Treat. You can easily kill 2 birds with one stone and tour the Dubai Mall.
3pm to about 10pm
Amazing tour with @OscarKnightTour I found them on airbnb which was $43 worth every penny because everything else I found was super expensive. This is the desert tour called High Red Dunes with Camel and VIP Dinner. It included surfing over the sand dunes, the camel ride, falcon show, and from there you head to the Bedouin style desert camp to enjoy a VIP BBQ Dinner. If you are interested in henna tattoo & Shisha, it is included in this package as well. During dinner you enjoy a Belly and Tanoura dance show performed by professional dancers which was great! You can't go to Dubai and miss the tour, it was an amazing experience!
Friday: @SaffronBrunch which is in Atlantis the Palm, about $146 USD, best brunch I have been to, trust me, I'm a budget Queen and this price was shocking to me but it's Dubai! It was totally worth it, just make sure you are there on time to get your money's worth & drink responsibly because you WILL GET WASTED, Hangover (the movie) style!
Saturday:
‪5:30 – 8:30PM booked a private Yacht, can't go to Dubai and miss out on being part of the Yacht Club. This was one of the highlights of the trip, booked w/ @XclusiveYachts they were great, the yacht was beautiful and the views we experienced were just gorgeous!
Sunday: ‪8AM – 4:30PM‬ – Abu Dhabi Tour with Ocean Air (found them and booked on airbnb)
On Airbnb they are listed as Premium Abu Dhabi Trip from Dubai.
This was a wonderful experience, our guide Sammie was great, he had a lot of knowledge about all the attractions. I definitely recommend!
Monday: Free day on the itinerary everyone did as they pleased. Got in some last minute shopping at the Souk Madinat Jumeirah, this souk experience is under AC!
Ambar
Instagram: @AmbarsViewsFromAbroad