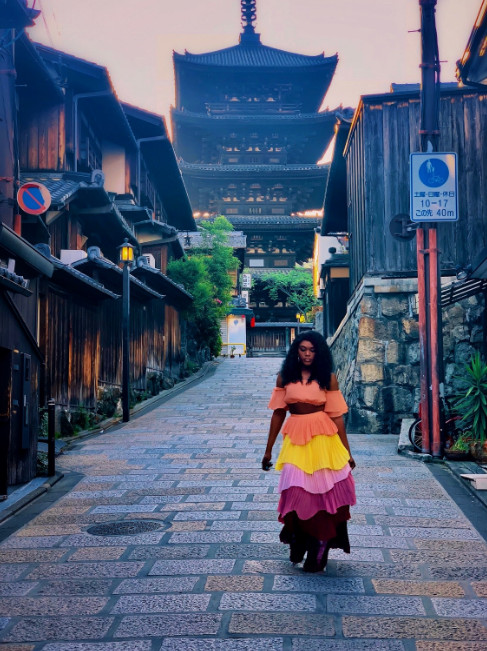 Why Kyoto?
When people think of Japan, Tokyo is often what comes to mind as it is the Capital City of Japan. But personally, I was more excited to visit Kyoto to experience the country's true spirit. Historically, Kyoto is important because it was once the capital of Japan. Most would say that Kyoto is the traditional heart of the country; from its gorgeous temples, shinto shrines, bamboo groves, beautiful zen gardens, Geishas, traditional teahouses, narrow lanes, wooden buildings. This charming city will take your heart away and should be at the top of your itinerary when traveling around Japan.
How to get around Kyoto?
It is very easy to get around Kyoto. There are many different types of public transportation in Kyoto (trains, subways, buses and taxis) which one you use is completely up to you, based on your starting location. I personally used the bus and believe that it is the best way to get around the city. It's cheap and it goes to all the main attractions in Kyoto. I also did a lot of walking. Kyoto is a pedestrian city, everything is clustered together especially if you're staying in the Gion area. you don't need to rely on public transportation to get around Kyoto, most of the main attractions are reachable by foot .Feel free to walk around and get lost in the Higashiyama District.
Where to Stay In Kyoto?
Where you want to stay depends on what you consider your top priority. During my trip to Kyoto, I stayed at the APA Gion Excellent in Kyoto, this hotel is located in Gion, Japan's most famous Geisha district right in the heart of Kyoto. I picked this location to stay because I wanted to experience the old Kyoto.
Very important when booking your accommodations, stay in areas that are centrally located, avoid booking anything that is far from the main sights and always make sure that there is a train station, subway or bus stop nearby.
Best areas to stay in Kyoto: Gion and Southern Higashiyama, Downtown Kyoto, Kyoto Station area
Adelene Exceus
Instagram: @getawaywithaddy_