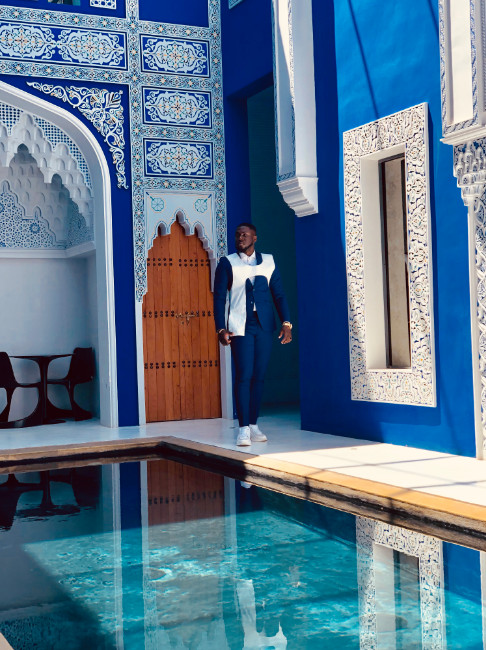 I recently visited Morocoo for 3 nights . I traveled from Philadelphia (PHL) – Madrid (MAD). Then from Madrid (MAD) – Casablanca (CMN).
The Exchange rate is $1 USD per $9.3 dirham. I rented a car that cost me about 250$ for 3 nights but because I went to Marrakech (RAK) and left from that airport back to Madrid (MAD), Hertz charged me an additional about $150 for travel/ drop off fee.
First I stayed to Casablanca for one night at the Sofitel Hotel; average for $130 usd per night with 300$ security deposit that you get back after check out.
Then I drove 3 hours to Marrakech as I stayed in the tradition Riads (Challa & Goloboy). All 3 hotels were absolutely amazing. The staff was super friendly and the food was amazing. Being that I'm from the Caribbean and we love our tea, the tea in Morocco didn't disappoint. Although all 3 locations were amazing, I had to walk through the Modena to get to them. That's their big market/ square and the locals are very aggressive and the area doesn't look to clean. They try to bargain with you and you must be real stern as there's no set price there. If you say no they curse at you, and if you bargain and they don't like your price they curse at you also. Lol so be ready mentally for their aggressiveness. It almost overshadowed the beauty of Morocco being that I wasn't aware of how the culture is like there but overall I enjoyed it.
I have T-Mobile and that worked fine in Morocco. The Modena is in the central part of Morocco. Everything is literary 20 max away from each other. Each Riad are about that distance from each other or closer and the Modena is in the center of each. I also did the dirt bike and camel ride which were about $55 usd after bargain. You can find all those excursions in the Modena.
Kemoi Charles
Instagram: @iamkemoi8