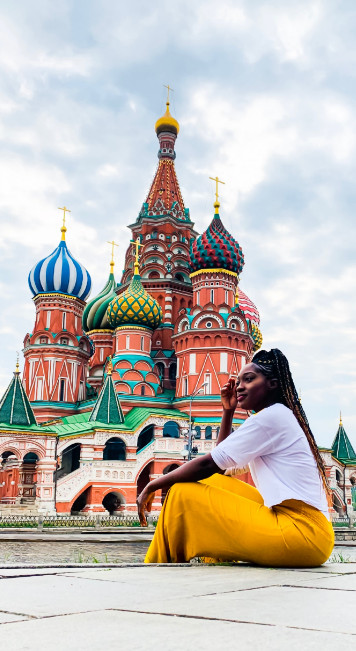 In my efforts to try and save money I bought a cheap flight from Dubai to Miami, I found a ticket that stopped in Moscow. I flew with Aeroflot airlines. My layover was an overnight 15 hour stay.
The visa process was a bit of a challenge at first but it got done. It cost $160 for the single entry 15 hour experience that I do not regret.
The best time to go see St. Basil Cathedral is early morning around 6:30-7am where there's no one in the square. I stayed for an hour setting up my shots for these pictures with no one in the way. There's security there because of the construction. But they did not harass anyone. The crowd and tourist groups arrrived around 8am. From that point I became the tourist attraction as everyone wanted pictures of me.
I am my own photographer! I normally carry around a tripod, Go Pro, Canon camera, and phone for back up. For these shots I used my iPhone 10R propped against my hand bag. A little editing using Lightroom and VIOLA! MAGIC! But not much was needed.
The little parts of Moscow that Ive seen were nice and clean with beautiful architecture. The weather was perfect! It was 60-65 degrees. I stayed in a cute 4 star hotel called Веллион Сухаревский. The concierg was a cute young guy who didn't speak much English but tried his best. We communicated through google translate. The Uber/Yandex drivers were so kind. 2 didn't speak English but continued to hold full conversations in Russian. My last driver knew a little English and raved about the current US president of course (considering it was Russia). But he did mention great things about Obama. My last 2 Uber rides were free because they didn't have change for my big bill and mention my pretty smile.
Russia was my #47 country and it was good to me as a black woman traveling solo. They seemed to like my melanin. Would I go back to revisit? No. The way my ADD is set up, I get bored easily. I'm over it. I got my fix. I move on to the next quickly. But I will recommend it to others to visit.
Natalie Duperme
Instagram: @Nats.worldtour