TripAdvisor is a travel behemoth that is trusted by millions all over the world. Created in 2000, it is the world's largest travel platform where travelers could share reviews. 
Whether planning or on a trip, travelers turn to TripAdvisor to compare prices of hotels, flights, and cruises. They also visit the site to book popular tours and attractions, as well as reserve tables at great restaurants. 
For that reason, TripAdvisor for hotels has proved to be the largest and most profitable channel.
So, in this blog, I am bringing the best ways to help you make the most of TripAdvisor.
Right from setting up your listing to acquiring bookings from it; I have covered A-Z of TripAdvisor for hotels.
Let's begin with,
Why should hotels have a listing on TripAdvisor?
Well, before I start, let me give you some shocking highlights: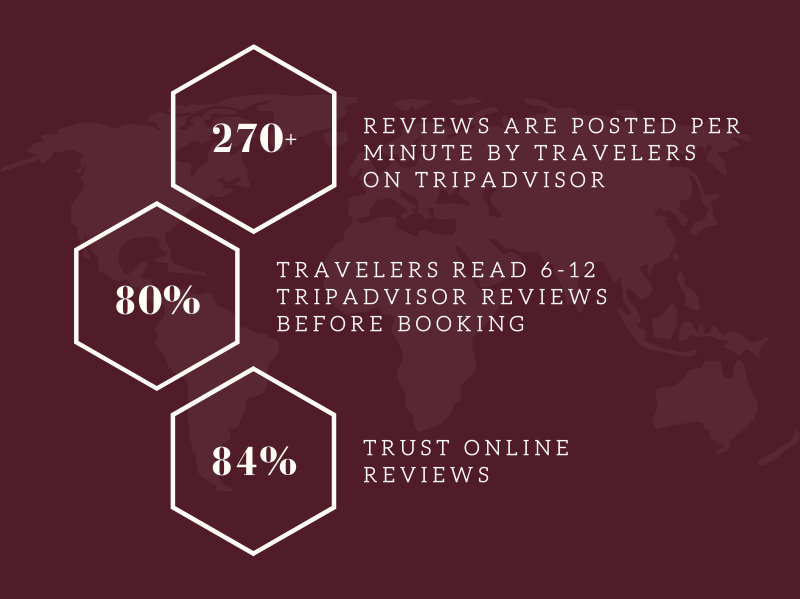 Source: Travel Media Group
Along with this, by the year 2020, the site draws

Source: TripAdvisor Media Centre
Now, the website is also available in nearly 50 countries and in dozens of languages.
TripAdvisor is known for its Popularity Ranking. This ranks hotel based on their scores from travelers.
A survey carried out by Forrester states, a massive 81% of those surveyed said reviews are important, with just 3% saying they are not.
Statistics by MGHworld suggest that over two-thirds of customers will avoid booking a hotel after reading one to three negative reviews.
Well, all these statistics sustain the fact that your target audience literally TRUST TripAdvisor.
Hence, neglecting TripAdvisor listing can turn out to be a significant mistake for your business. 
Having known the importance, let us understand,
Steps to claim your TripAdvisor business listing
You'd be surprised to know that nearly every hotel in the world is on TripAdvisor. 
Since a TripAdvisor Business Listing already exists for your hotel; you can either claim the existing listing or create a new one for yourself. 
By claiming your listing, you can access the tools needed to improve your reputation. This helps to get you more exposure and opportunities to build your brand.
You can check if the hotel is listed by visiting – Tripadvisor Listing.
If your business appears in the search results, it means your listing already exists on TripAdvisor. 
To claim, click on your business name and click the "Claim Your Business" option to sign up for TripAdvisor's Management Center.
On the other hand, if you don't find your business in the search results, here's how you can add your TripAdvisor listing.
You can start creating a new listing by visiting – List your business on Tripadvisor.
On this web page, select your business type from – Hotels, Restaurants, Attractions, or Vacation Rentals. 
The process for adding your business and creating a listing on TripAdvisor is pretty straightforward. 
Following are the steps to create a new or claim an existing listing:
Step 1: Fill out the basic information about you and your business
Make sure that this information is correct and updated. Because TripAdvisor will send a message to the email address listed here, once the listing is published.
Step 2: Pin your business' location on a map
TripAdvisor recommends you to drop the marker as close as possible to the entrance of the business. If it doesn't have an entrance, drop the marker at its "geographic center."
Step 3: Provide property details such as:
Total number of rooms
Price range
Minimum stay requirements
If you have on-site staff and security
Details on front desk staffing
If bathrooms are en suite
Included amenities
Step 4: Describe your property
Add a property description. This helps users learn more about the business. It must be written in the local language, and it shouldn't contain HTML code, contact information, or text in all caps.
Step 5: Add your profile photo
Firstly, you need to upload your business profile photo. This image will be displayed on the listing and serves as the first impression for users.
TripAdvisor guidelines state that the photo should be in a JPG or GIF file format and a maximum file size of 100 KB. (Without any borders or logos.)
Step 6: Hit "Submit"
After performing all these steps, all you have to do is submit the application. Verify that you are a representative of the business by clicking on the box at the bottom of the form. Then click the "Submit" button to send the application.
Once everything is done, TripAdvisor editors will then verify the details and send you a confirmation email.
This part of the process takes about five business days to complete.
Now let's see,
Ways to optimize your listing on TripAdvisor
Along with having a listing, you need to optimize it in order to yield better results. Here are a few ways to do that:
1. Verify your information
Confirm that all the details on your listing are correct. 
Once you've registered, double-check that your business' name, address, phone number, links to your website, and email is correct. 
You can make any edits in the Management Center by clicking "Profile" in the top menu and selecting "Manage Listing". 
This will allow you to update or add information. As an official representative of the business, your edits will override any existing content.
Further, add a description of your property. Make sure that your property's description content is rich, attractive, and helps you stand ahead of your competitors. 
In addition, include information about opening times, seasonal activities, suitability for children, or groups; everything that will help travelers select your attraction.
In this way, you can add a brand new listing on TripAdvisor.
2. Upload photos
The photos as well as videos of your property and your surroundings help travelers to set an expectation of their stay beforehand. 
The more the photos, the better will be the engagement.
As TripAdvisor says, businesses with 30 or more photos have 41% better engagement than those with 10 or fewer.
You are entitled to upload an unlimited number of images. Make sure you let travelers see what they can look forward to, whether it's an adventurous walking tour or a beautiful outdoor park.  
Once you have some photos, select one as your primary photo to help you make a strong first impression with travelers. 
3. Add booking links to your listing
TripAdvisor has partnered with external companies to allow travelers to make bookings directly from your listing. 
If you would like to get a 'Book Now' link on your listing, register your business on Viator. If you're already a Viator supply partner, add more products here (sites available in English only).
Within each listing, TripAdvisor shows rates of other hotel booking sites like Booking.com and Priceline. However, you can set your own rate on TripAdvisor.
With the 'Book Now' button, customers can reserve a stay through TripAdvisor instead of going to another travel site. 
In addition to the button, there's an ability to show live rates and overall availability on the listing page.
4. Add attractions in your listing
Attractions are to be added to the "Things to Do" section on TripAdvisor. 
To join this list, attractions must meet the following requirements:
Shall be interesting to travelers
Should meet TripAdvisor's animal welfare policy
Must be open or taking reservations for a future opening date
Have an official name and permanent address
Must be open to the public for at least 12 consecutive weeks
The sole exception to these requirements is "Performances"; such as specialty shops, museums, or nature areas that are at one venue for at least 24 consecutive weeks.
You can sign up as an attraction by following the same process on TripAdvisor Owners page. The only difference is that you select "Attractions" as the listing type.
After having your listing optimized, let us find ways on,
Ways to improve your TripAdvisor ranking
Your ranking on TripAdvisor plays an important role to enhance your presence and get more bookings. 
Popularity Ranking is based on user reviews and reflects your standing against other businesses within your geographical location. 
In addition, your property's popularity ranking is important because it helps you appear higher in the search results.
TripAdvisor ranks your property based on these three main factors:
1. Quality of Reviews: Positive reviews and ratings impact your Popularity Ranking.
2. Quantity of Reviews: Encourage guests to write reviews because having more reviews is better for your Popularity Ranking. 
3. Latest reviews: Recent reviews carry more weight in your ranking, while older reviews have less impact. You have to keep encouraging every guest to share their feedback.
IMPORTANT: Asking customers to leave reviews is a great idea, but offering incentives is against TripAdvisor's policy.
In con, along with quality and quantity, you need to ensure a consistent flow of strong and positive reviews. 
Remember,
More reviews help build confidence faster.
Moving ahead, let's understand, 
How to drive more bookings from TripAdvisor?
The ultimate aim of your listing is to GET MORE BOOKINGS. So, here are some ways through which you can get more bookings from TripAdvisor:
1. Optimize your ranking in search results 
Search results pages are instrumental in helping travelers sort through all the accommodation options available and find the one that's right for them. 
When travelers land on a search page, they've chosen their destination — or narrowed it down — and they've started to build a list of hotels that will become their consideration set. 
Below are a few examples of common pages a traveler may land on.
Traveler Ranked: Properties ranked by the quality, quantity, and recency of traveler reviews — and their consistency over time.
Best Value: Properties ranked using traveler ratings, confirmed availability from our partners, prices, booking popularity, location, and personal user preferences.
Lowest price: Properties ranked by price — lowest to highest.
Distance: Properties ranked by their location, with confirmed availability — closest to the center or location of choice.
Search optimized pages: Pages designed to address specific searches conducted by travelers — on TripAdvisor as well as on third-party search engines. 
To sum up, your goal is to get noticed on any of these pages according to your property type.
2. Review Management 
The way you manage your reviews has a great impact on your presence and plays an important role to get you more bookings. 
With hundreds of reviews written every minute, it's easy to fall behind. 
More than half of TripAdvisor users will not book a property that doesn't have any reviews. 
Lastly, to compete on TripAdvisor, you MUST earn positive reviews on a regular basis. Let me tell you how you can get a consistent review: 
a. Ask for reviews
Well, it is obvious, if you don't ask, you don't get it. Ask your guests to leave a review or feedback. Begin asking happy guests to leave a review.
Also, after they check out, you can send a thankyou email and in that, you can ask them to review you. 
b. Get along with TripAdvisor Review Express Program
One most important benefit of TripAdvisor for hotels is the Review Express Program. It is a free, powerful email-based review collection program that makes it easy for hotels to invite recent guests to submit reviews on TripAdvisor.
TripAdvisor has recognized several booking engines and hotel software vendors, as TripConnect Premium partners (which by the way, eZee is).
If you enroll in this program with a premium partner, TripAdvisor itself sends emails to collect feedback automatically from your hotel software or booking engine.
In the same vein, you can track the performance of your different email campaigns on the Review Express Dashboard. You'll see valuable metrics from each campaign such as the number of total opens, clicks, and reviews received from the email.
c. Custom Reminder Cards
Another great way to encourage TripAdvisor reviews, is by creating reminder cards that you can print and distribute to guests at the front desk.
TripAdvisor itself offers these types of cards. Here's how to get them:
Under the "Marketing Tools" tab in your Management Center select "Promotional Tools"
Click on "Order Now" under Business Cards
Choose "Business Cards" in our promotional shop
Click on the reminder cards that fit your business. You can customize it as well.
Important Tip: Distribute these cards at checkout, the end of a meal, or when the tour comes to an end to remind guests to write a review when they return home. 
d. Reminder Flyer
Ask your guests to write about their experience by giving TripAdvisor's downloadable flyer.
The downloadable flyer can also be found in your Management Center, under "Marketing Tools".
The flyer is available in many languages, for your guests visiting from all over the world.
Important Tip: Hang this flyer in a high traffic area as an effortless reminder to your guests as they pass. 
Now, in these different ways, you will be able to collect enough reviews.
But, is that all?
Not really! Because collecting reviews is just a part of the whole shebang.
Further, another significant aspect is to RESPOND to them regularly.
Responding to reviews is a crucial part of managing TripAdvisor listings. It tells customers that their opinions are vital and you care about every piece of feedback regardless of its sentiment.
In fact, 45 percent of consumers say they are more likely to visit a business that responds to its reviews.
TripAdvisor alerts you when you receive a review. So, you can respond to those reviews ASAP.
When done well, responding reviews can enable higher bookings for your property.
Here are some review response templates that might help you to respond quickly and correctly.
3. Add TripAdvisor Widgets on your website
Include the free widgets on your own website which TripAdvisor offers. These help you to showcase a TripAdvisor rating and encourage customers to leave reviews on the listing page.
Above all, review widgets can increase conversions on your site and provide social proof that your business is trusted by other consumers.
You can check out the Widget Center to see which widgets are available for a listing.
Besides, you can have the following widgets on your website:
Rated on TripAdvisor Badges: There are three variations of this widget, which shows the listing's overall rating and review count.
Review Snippet Widget: This displays the listing's rating and snippets of recent reviews.
Write-A-Review Widgets: These widgets encourage customers to review the business on the website.
Review Widgets: A "scrolling showcase," that features your recent best review.
4. Participate (and win) in Travellers' choice awards
TripAdvisor's Certificate of Excellence award is one of the most desired badges of honor for businesses in the travel sector. 
It can set your business apart from your competitors and give you more visibility.
They have been handing out the Certificate of Excellence since 2011 to honor hospitality businesses, that deliver consistently great service across the world.
An average of only 10% of businesses listed on TripAdvisor receive this Certificate of Excellence. 
Since there is no specific application process for this; the achievement is earned by businesses that are able to collect great reviews and high ratings on TripAdvisor.
To get the TripAdvisor Certificate of Excellence, you must:
Maintain an overall rating of 4 out of 5 stars
Have a minimum number of reviews (TripAdvisor doesn't specify the actual number)
Must be listed on TripAdvisor for at least 12 months
The award winners are announced in late May every year. This means that your business must be listed onTripAdvisor for a full 12 months between 1st April and 31st March, to be eligible for the award.
Note: The certificate is valid for up to one year from the issue.
5. Join the different TripAdvisor Programs
This travel giant offers a wide range of programs for the business to help them showcase the best of their property. 
a. TripAdvisor Instant Booking Program: 
With TripAdvisor Instant Booking, travelers can reserve hotels and accommodations directly on the site. 
This is indeed a great way for TripAdvisor businesses to capitalize on the website's traffic. (After all, travelers are more willing to book when they don't have to leave a trusted site like TripAdvisor.)

As a paid feature, TripAdvisor Instant Booking:
Lets potential guests see your live rates and availability on the site.
Allows travelers to click on "Book on TripAdvisor" from your listing.
Gets you bookings directly through your trusted connectivity partner.
Above all, TripAdvisor Instant Booking brings reservations to hotels by working with several certified connectivity partners.
Furthermore, connectivity partners include booking engines, channel managers, and property management systems. (You may view TripAdvisor's list of connectivity partners here.)
Well, it is based on a "Pay for Stays" commission model. This means that you need to pay TripAdvisor only for the bookings that turn into stays.
There is no upfront investment and no long-term commitment required to sign up.
b. TripAdvisor Affiliate Program: 
The affiliate program allows you to leverage the TripAdvisor brand to enhance your content. Additionally, it helps you to earn a steady revenue stream on hotel traffic.
It provide users, access to content covering 795 million reviews and 1.4 million places to stay.
c. Start a Sponsored Placements campaign:
Put your listing above search results with Sponsored Placements.
It is a new advertising solution that puts your property in front of potential guests on key pages.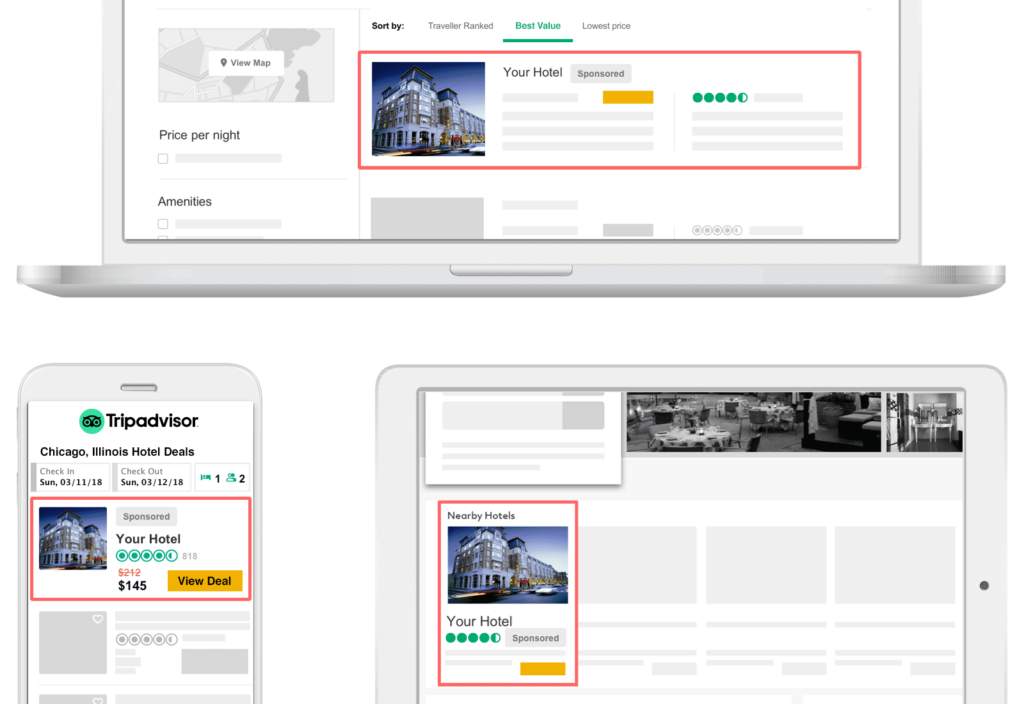 Besides, most of the properties think, that the only way to influence TripAdvisor search rankings is to maintain a large number of excellent reviews.
But, the Sponsored Placements now help low-ranking hotels appear at the top of the search results.
However, the new ads are only differentiated from the rest of TripAdvisor's listings by a grey 'Sponsored' label next to the name of the hotel. Aside from the grey label, the ads look the same as the organic listings beneath. This enables them to target consumers searching for hotels in their destinations and gain bookings.
Therefore, Sponsored Placements present an excellent opportunity for hotels to increase their visibility on this hugely influential website.
So, this is what all I could share about benefits of TripAdvisor for hotels.
FAQs
What is a verified badge?
A verified badge is a checkmark that appears next to a TripAdvisor account name in search and on the profile. In other words,TripAdvisor has confirmed that an account is the authentic presence of the public figure, celebrity, or global brand it represents.
How does Tripadvisor ranking work?
TripAdvisor has a bubble rating system from one-five, and every guest that submits a review can rate your hotel accordingly. These bubble ratings directly influence your quality score. As you might expect, more quality reviews mean an improvement in your overall ranking position
How did my property end up on TripAdvisor without being listed?
Your property ended up without being listed because of the following reasons:
1. A traveler may have told them about your property or submitted a review of it.
2. TripAdvisor might have heard about your property from one of our commerce partners, such as Expedia or hotels.com. (They list all hotels in their systems.)
3. Their editors might have come across a reference to your property in an article or guidebook.
What kind of places does the TripAdvisor list?
TripAdvisor lists permanent places of interest to travelers. As long as they can verify that a business or place of interest adheres to their guidelines, they would add it onto the site. For instance restaurants, hotels, attractions, airlines, cruise, vacation rentals, and more.
What if my listing request gets rejected?
Listing requests are rejected because of one of the following reasons:
1. Tripadvisor editors cannot verify that the place or business
2. They determined that the place or business does NOT meet their guidelines.
How do I report an inappropriate review?
If you feel that a review is suspicious or violates the guidelines, locate and click on the gray flag at the right side of the review to report it.
In conclusion
TripAdvisor for hotels is a huge advantage for the entire hospitality industry. Make the most of it. Share positive reviews on social media and marketing materials.
In short, when used effectively, TripAdvisor can help you reach more customers.
So, create a solid plan and leverage TripAdvisor to grow your business.
The post What are The Benefits of TripAdvisor for Hotels? [End-to-end Guidebook] appeared first on eZee Absolute.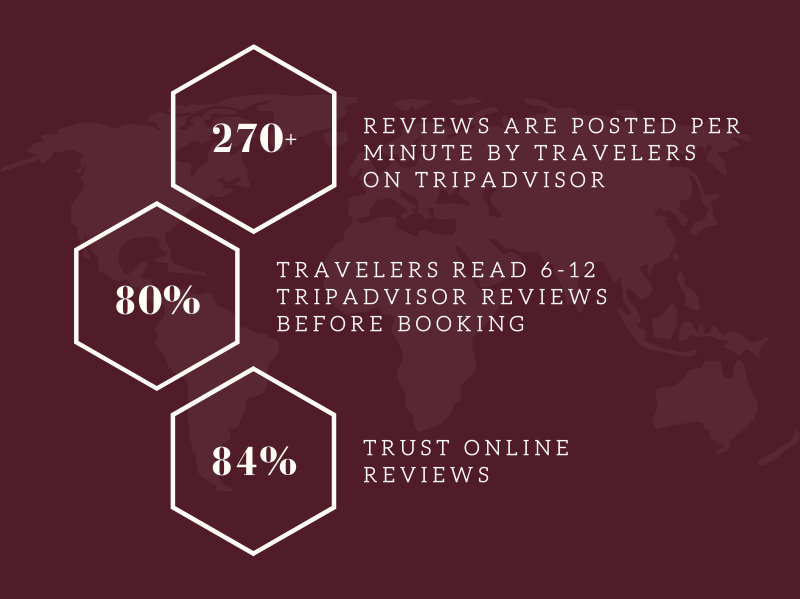 Read MoreWhether planning or on a trip, travelers turn to TripAdvisor to compare prices of hotels, flights, and cruises. They also visit the site to book popular tours and attractions, as well as reserve tables at great restaurants. So, in this blog, I am bringing the best ways to help you make the most of TripAdvisor. Right from setting up your listing to acquiring bookings from it; I have covered A-Z of TripAdvisor for hotels.
The post What are The Benefits of TripAdvisor for Hotels? [End-to-end Guidebook] appeared first on eZee Absolute.