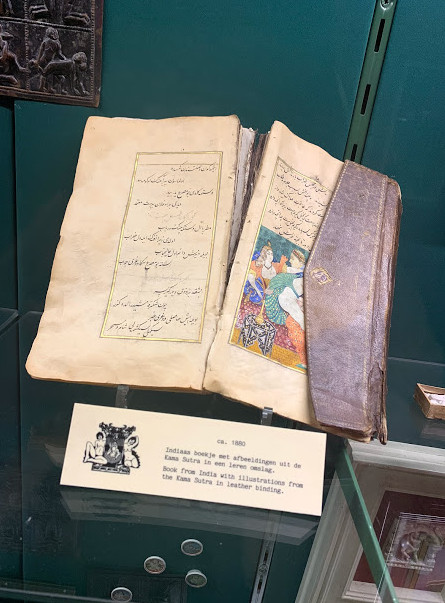 The draw of the Red Light District matched with a scent of marijuana dancing through city streets forges Amsterdam to be a playground for the wide-eyed tourist, curious about how wild life can really get.
Strides from Amsterdam Centraal, the largest railway station in Amsterdam, stands the Sexmuseum de Venustempel or the Temple of Venus. The museum opened its doors in 1985 and has since attracted more than 700,000 visitors annually. For years, it has been one of the most visited museums in the Netherlands, costing €5 to enter.
Outside of obvious allure, the three story museum offers an extensive collection of photos, recordings, video, historical artifacts, and interactive displays that allow visitors to explore the evolution of sex and expressions of human sexuality from around the world.
While the museum isn't linear by any means, the variation keeps visitors on their toes. On the first floor, visitors can find life-size figures in Roman esque attire just meters from Chinese pornographic paintings dating back more than two hundred years.
Heading to the upper levels, stands a large gallery of what would likely be considered leaked nudes today. The black and white Polaroids are neatly aligned in what seems like never ending rows.
It was interesting to consider how the photographs may have came to be. For reasons of privacy or legality, I assume, none of the photos had dates, names, or even locations. The mystery of it all was equally fascinating as it was frustrating, yet it challenged my thinking around how we consume art; especially when the subject is human.
As you descend down the winding staircase, making your way to the singular entry and exit, your eyes will meet with anxious visitors eager to gawk and gaze at what they predict the museum to hold. Truth be told, I had no idea that this museum would offer such a wide range of information that can lead to some pretty solid dialogue about sexuality, gender roles, body image, and more—at the very least it's a place to giggle with fellow travelers.
Devin Owens
https://www.instagram.com/dayswithdev/?hl=en