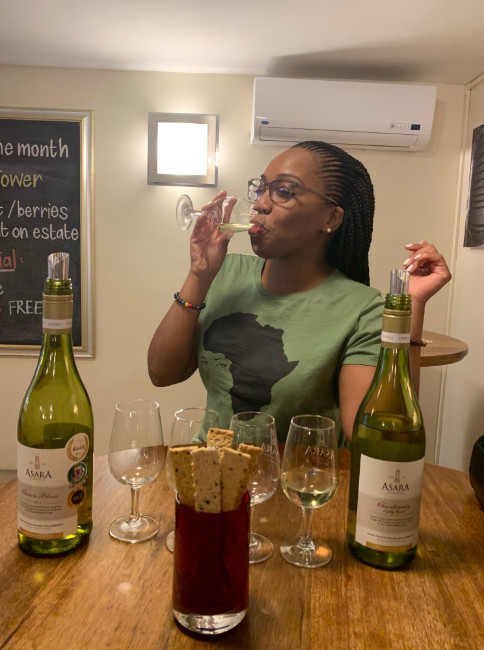 I've always wanted to visit Capetown,South Africa. So, I said to myself "You know what, Boo? Treat cho self". I packed my bags and solo trekked my way to the MotherLand. It's only right for me to begin my quest with experiencing just a taste of some of the best wines the region had to offer. I visited Fairview, La Petite Ferme, Asara and Clouds estate for all day wine tasting. At Fairview, you get to devour different kinds of cheeses made from milk taken from the goats that's on site. Just know the cheese was ALL'LAT (Matin Lawrence v.) The people,the wine, the history and I CAN NOT forget the views of each location exceeded my expectations on what my experience would be like.
Other notable mentions:
Robben Island – A tour of the island and the prison that Nelson Mandela was a political prisoner for 18 of his 27 year sentence. Your tour guide will be a former political prisoner as well to give you an insight of how the prison operated.
Table Mountain: One of the seven wonders of nature in the world! The views are beyond breathtaking. Get on the revolving tram for your 360° view going up or down the mountain. Oh yea by the way, if you're a G, there is an option for you to hike.
Bo-Kaap- Take a stroll and learn the history of one of the most colorful communities on Capetown. Did you know that at one time all the homes there were painted all white? Since Bo-Kaap is largely a Muslim community, as time went on they celebrated Eid by painting their homes of different colors. Take some pics! I'm sure you'll find a house painted in your favorite color.
Big 5 Safari- You can't visit a country in Africa and not do a big 5 Safari. I visited the Aquila Safari game reserve which was pretty cool. If you're wondering what the big five are, it's the buffalo,rhino,elephant,lion and leopard or BRELL.
And lastly,
The coastline- if you want some scenery eye candy, check out the beaches in Capetown. You can see anything from African penguins to the colorful beach houses. Enjoy!!!
April
Instagram @Freespiritevolving