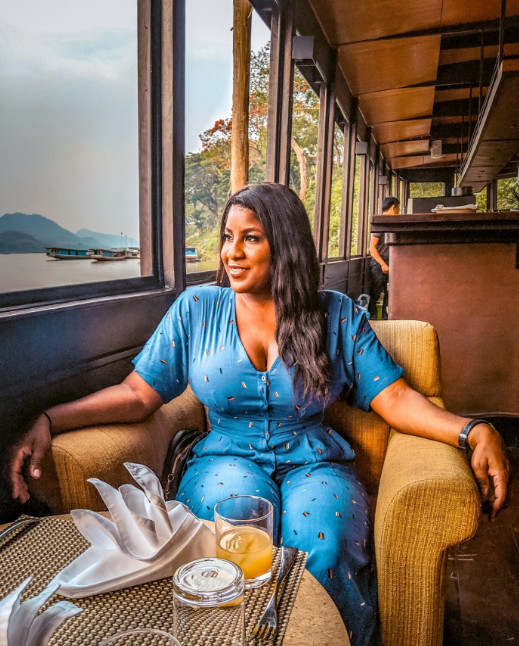 Located in Northern Laos, Luang Prabang is filled with lush landscapes, beautiful mountain views, and preserved temples. It's serene and tropical charm will draw you in while the blend of Lao and French culture will surround you. Here's a list of 5 things to do while visiting Luang Prabang!
Soak in Kuang Si Falls
As you begin your hike through Kuang Si Falls, the winding paths will first lead you to the Tat Kuang Si Bear Rescue Centre for Asiatic Black Bears. Before reaching the top, you can also opt to take a swimming break at several points along the way.
Explore the Night Market
Held in the town center each evening from 5-10 p.m., the Night Market comes alive via a bustling complex that will immediately invoke all senses. More than 300 local traders set up on a closed-off street selling everything from ceramics, hand-woven fabrics, art, and Laotian cuisine at prices you wouldn't believe!
Take a Sunset Dinner Cruise
Schedule a cruise where you'll pair delicious cocktails, a multi-course dinner, and breathtaking mountain views with a stunning sunset. Sunset dinner cruises take place on traditional riverboats that cruise for 2-3 hours and some feature live entertainment.
Explore Over 30 Buddhist Temples
Beautiful temples adorn the city and you could spend hours visiting and learning about the history that surrounds each one. Luang Prabang itself is a UNESCO World Heritage Site, therefore, its palace and 34 temples receive that same designation.
Take a Dyeing, Batik or Weaving Class
The Ock Pop Tok Living Crafts Centre consists of a boutique featuring Lao textiles, a place where talented local women artisans handcraft beautiful pieces, a restaurant where you can enjoy an "east meets west" inspired menu, and a treehouse where you can enjoy sunsets off the Mekong River.
Shanna Jones
Instagram: @goingsomewheresoon_