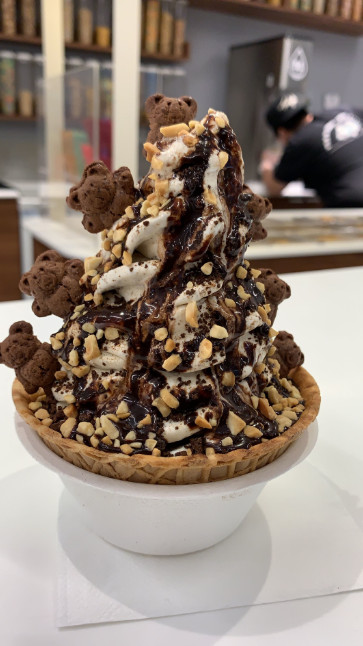 Cocoa puffs blended into a rich butter-milk, vanilla ice cream topped with peanuts, chocolate Teddy Grahams, and hot fudge—oh, and all of this sits on a warm brownie neatly stacked inside a waffle cone bowl.
Wipe your mouth, you aren't dreaming up this food-gasmic experience, it's my recent order at Milk and Cream Cereal Bar in New York City. This nostalgic ice cream shop tantalizes your taste buds with classic cereals ranging from Apple Jacks, Lucky Charms, Cookie Crisp to a more modest Honey Nut Cheerios paired with house made ice cream. Guests are able to select additional toppings (such as fruits, nuts, cookies, and candy) and then their waffle cone flavor to house all of the calorie-ridden goodness.
The best part, in my humble opinion, is the cereal blended into the ice cream that tastes just like your childhood favorite bowl. I'm not sure how they did it, but it's pure ice cream genius.
The cool colored shop tucked away lower Manhattan is accessible by foot, public transport or Uber/Lyft. After you grab a scoop (or two) there's plenty of shops nearby to walk off your recent indulgence.
Coming in hot with a killer social media presence, the Milk and Cream team doesn't disappoint, going above and beyond to ensure you have a great first (or even returning) visit. Snap a photo, share a video or just dive into your sweet treat. I promise, you won't have a better scoop of ice cream.
Devin Owens
https://www.instagram.com/dayswithdev/?hl=en